Paul Willett
(Nine Seven Two) 489-7324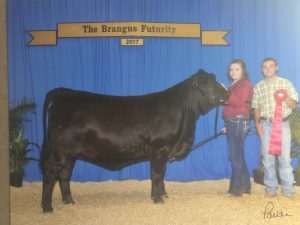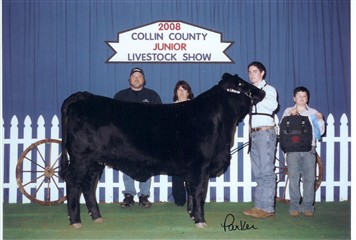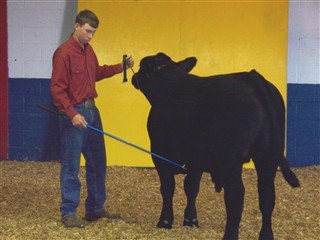 We have been in the registered Brangus cow calve business since early 2001. We specialize in show heifer, replacement heifers, and herd sire prospects. All heifers will have their parent verified at weaning where they can be shown in any open show because this is now mandatory for selective open shows. Cows are AI-ed to some of the best bulls in the Brangus breed. We also use embryo transfer to further enhance the genetics and quality of show prospects, replacement heifers, and herd sires.
Our bulls are sold through private treaty. Our cows get annual booster shots and are wormed twice a year. Our calves also get their required shots, boosters, and wormed. Our cattle are developed on high quality grasses and hay (Tifton 85), along with the appropriate minerals and supplements.
I am also using "Genomic-Enhanced EPDs" on all bulls by sending a DNA sample for testing before the bulls are weaned. This  "Genomic-Enhanced EPDs"  will make the EPD's more accurate at the time of sale ensuring that you get progeny's that closer match the EPD's that were  projected. This is extremely importing when selecting a bull that can be put on heifers and be certain that you will not have calving problems.
All cross fencing is done with electric fences. As soon as a new calf hits the ground, they learn to respect fences at an early age. We spend lots of time each day working with the cattle to ensure they are gentle and easy to work with.
Keeping records on our operation is very important to have the required data where you know where you are, where you came from, and where will you need to be going. One of the big part of the records is the animal records. The International Brangus Breeders Association (IBBA) has the tools (THR) on line to do that. We are proud to have won the the top honor in Texas for the fall of 2015. See data below on the subject.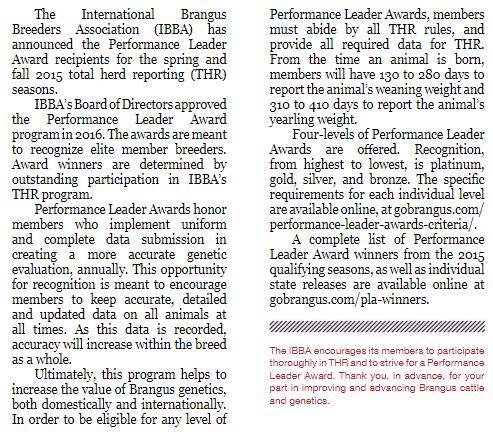 Paul Willett
4196 County Rd. 1001
McKinney Texas 75071
Cell (972)489-7324
About The Brangus Breed
BRANGUS – The #1 American Breed
The unexcelled combination of Angus quality and Brahman hardiness sets Brangus apart. The blend of selected individuals from the two parent breeds results in a breed that better combines efficiency of production and excellence of end product than any breed — new or old.
The following information will further explain the advantages and reasons for the Brangus breed's development, growth and ever-increasing popularity. Read on to see for yourself why Brangus is the number one American breed.
How It All Began
A review of the development of the Brangus breed would take us back beyond the founding of the American Brangus Breeders Association in 1949; however, registered Brangus descend from the foundation animals recorded that year or registered Brahman and Angus cattle enrolled since then. Much of the early work in crossing Brahman and Angus cattle was done at the USDA Experiment Station at Jeanerette, Louisiana — the first crosses being made as far back as 1912.
During the same period, Clear Creek Ranch of Welch, Oklahoma, the Essar Ranch of San Antonio, Texas, and a few individual breeders in other parts of the United States and Canada were also carrying on private experimental breeding programs. They were looking for a desirable beef-type animal that would retain the Brahman's natural ability to thrive under adverse conditions in combination with the excellent qualities for which the Angus is noted.
The early breeders from 16 states and Canada met in Vinita, Oklahoma on July 19, 1949, and organized the American Brangus Breeders Association, later renamed the International Brangus Breeders Association, with headquarters in Kansas City, Missouri. One day following the formation of the American Brangus Breeders Association, the July 30, 1949 edition of the Vinita Daily Journal, Vinita, Oklahoma, published a front page article entitled "Pope is named president of Brangus Group." The article went on to read: "Other officers elected here as cattle organization is set up. Raymond Pope, co-owner and manager of Clear Creek Ranch in Northern Craig County was elected president of the American Brangus Breeders Association at the organization meeting for the group held Friday afternoon in Vinita. Representatives from 16 states named Pope to be the first president of the American Brangus Breeders Association at the organization meeting held Friday afternoon in Vinita. Other officers elected at the first business session held at the Vinita Country Club were: Terry Dalehite, Pearsall, Texas, first Vice President; Carl Colwick, Prichett, Colorado, Second Vice President; Jesse Dowdy, Sedalia, Missouri, Third Vice President; and Carlton Corbin, Pittstown, Oklahoma, Secretary-Treasurer."
On January 1, 1973 the IBBA began conducting business from its own office building. The ranch-style, rock building in San Antonio continues to serve as the permanent headquarters of the IBBA.
In 2005, the International Red Brangus Breeders Association became an affiliate association of the IBBA, and the IBBA herdbook was opened to include Red Brangus™. The IBBA herd book now also includes Ultrablack® and Ultrared™ cattle providing IBBA members and there customers with seedstock choices unmatched by other breed associations. There are now members in nearly every US state, Canada, Mexico, Australia, Central America, South America and Africa.
Breeding Up to Brangus
The concept of developing a new breed by stabilizing the best characteristics of two proven breeds in a fixed proportion is unique to the International Brangus Breeders Association. Rather than top crossing on commercial cows, proven individuals of the two parent breeds serve as the foundation for establishing new bloodlines.
Registered Brangus must be 5/8 Angus or Red Angus and 3/8 Brahman, solid black or red and polled. Both sire and dam must be recorded with the International Brangus Breeders Association. Foundation Angus, Red Angus and Brahman cattle must be registered in their respective breed association prior to being enrolled with the IBBA. Intermediate crosses necessary to reach the 5/8-3/8 percentage are certified by the IBBA.
In recent years, the majority of Brangus cattle entered in the herd book are from Brangus parents, but an increasing number of foundation Brahman and Angus are being enrolled as the breed achieves greater recognition. The herd book of the International Brangus Breeders Association is open in a unique way. Registered Angus, Red Angus and Brahman cattle can be enrolled as foundation stock for new Brangus bloodlines. The exact procedure for breeding up to Brangus consists of enrolling foundation Angus or Red Angus and Brahman, certifying the intermediate crosses (1/4 bloods, 1/2 bloods, and 3/4 bloods with the Brahman percentage always given first) and then registering the animals as Brangus when they reach the 3/8 – 5/8 level. The certified intermediate crosses are simply a tool to get to Brangus and are rarely crossed back to one another. It is possible to either breed 1/4 Brahman to 1/2 bloods, or 3/4 Brahman to Angus to get to Brangus (see chart). In the IBBA's program, the reciprocal crosses are equal so those developing new bloodlines can best utilize all their crosses. There are also opportunities to provide certified foundation cattle for breeding up to Brangus to those breeders who do not want to develop all the intermediate crosses themselves. The program for breeding up to Brangus is particularly appealing to the registered Angus breeder who can buy a 3/4 bull or use 3/4 semen to produce registered Brangus in the first generation. Those with Brahman and 1/2 bloods can raise 3/4 bulls for sale to Angus breeders and can also breed their 3/4 heifers to outstanding Angus or Red Angus bulls if they choose and start a Brangus or Red Brangus herd from 3/4 cows.
The original member number was #1355 and the herd was established in 1966. The Hengst Brothers Brangus herd has involved the whole family from the start and has enjoyed some of its greatest successes because of that.
Dennis, the oldest of five siblings, purchased his first Brangus heifers from Willow Springs Ranch of Burton, Texas. WSR B Grande Drusila 4 and WSR Inez 2 were the starting point for his herd and the love of Brangus cattle soon spread to his younger siblings as Ralph, Allen, Darlene and Gracie soon started adding to the story. One of the greatest matrons in the Hengst herd was PW Ms Yuvalle 133/7. She won back to back championships as the Grand Champion Female at the Houston Livestock Show and Rodeo, first for Darlene and then Gracie. Five and six generations later she is still having an impact in the Brangus world through progeny such as HBB Ms Henderson 49U7 and HBB Ms Formation 49Y10.
The Hengst herd has its foundations with some of the most influential and forward thinking breeders of their time:
Willow Springs Ranch of Burton, Texas (Member #272)
Theldick Brangus Farm of Bleiberville, Texas (Member #850)
Kajan Farms of Houston, Texas (Member #1006)
Rocking E Ranch of Stamford, Texas (member #1342)
Yuma Valley Cattle Company of Tucson, Arizona (Member #1400)
Pruett and Wray Cattle Company of Sonata, Arizona (Member #1834)
Granada Brangus of Bryan, Texas (Member #2231)
Clayton Williams of Midland, Texas (Member #2991)
From the beginning the Hengst family expressed a true passion for the breed and has always believed in the functionality that it has offered from the breed's inception. During the 1980's, as the cattle industry went the way of very large-framed cattle, the Hengst herd stayed the course with moderate-framed, functional cattle that could be efficient and productive on grass with minimal supplement during a drought and winter.
Over the years genetics have been infused through the purchase of herd sires and the use of artificial insemination, as well as the addition of future matrons to the herd. Some of those herd sires through the years have included WSR Zapata 104, Theldick Fernando 79, Mr Ervin 67/4, Williams 942-192M3, XS News Day 338H2, MC Geronimo 23M3, Henderson of Brinks 30S7 and Suhn's Formation 331W17. Each of these bulls represents some of the top genetics available at the time in Brangus history.
Williams 942-192M3 was a great son of the storied WSR Cloud 942 and WSR Vaquero Eva 4. Full sisters to this mating were some of the most sought after females of the time and ranked as some of the highest selling through the Clayton Williams program. Eva was still in the donor program at the age of 19. The first progeny of 942 were registered in 1976 and the last one was registered in 2000. Over a span of 24 years there were 2009 progeny recorded, proving his functionality.
XS News Day 338H2 brought in proven maternal genetics through the Summit Sire Brinks CC News Day 661C2. Born in 1993, to this day 661C2 is still ranked in the top 1% of the breed for Milk and had progeny registered as recently as 2013.
Bringing in yet another Summit Sire and one of Salacoa's most successful donors was MC Geronimo 23M3. His pedigree combined the families of 392, 535, 784 and the famous Salacoa Pine Lass 23D2.
Henderson of Brinks 30S7 proved to be capable of putting performance in his progeny and producing outstanding daughters. He was the first calf born to his dam, and she immediately went into Camp Cooley's donor pen after the collection of his performance data. She now resides at 101 Ranch as a donor female and her dam was purchased from Camp Cooley for $27,000 by RRR Ranch. Henderson was also one of the first bulls in the breed to have sexed semen collected, reinforcing the quality of females he can produce.
One of the most recent additions to the line-up is Suhn's Formation 331W17. He has proven to be one of the most consistent producers of moderate-framed, big-footed, and high capacity cattle to date. His dam, Suhn's Ms Cadence 331M3, is a proven donor female residing at Draggin' M Ranch. She is the dam of Suhn's Next Step 331R7 and currently ranks in the top 1% of the breed for TM, 2% for YW and Milk, 4% for WW and SC, and top 15% for REA.
In recent history, the Hengst herd has seen the addition of great females such as MC Ms 338 Right Time 889R6, Ms Brinks Bear Bryant 361T38, Ms Brinks Sonar 30P31, Miss Brinks Ali 416L2 and KBJ Ms Watash 916R. Right Time 889R6 is a first generation cow and prolific donor. She proved herself popular in 2011 when Clover Ranch of Marietta, Georgia purchased a flush on her for $10,000. Her maternal sister 889P6 is a dominant cow in the breed posting progeny sales exceeding $500,000. Ms Brinks Bear Bryant 361T38 combined the power and performance of Bear Bryant with the fertility and consistency of the 361 cow family. Her maternal grand-dam is the prolific donor Miss BB New Maverick 361B2, who's last natural calf was registered in 2009 at the age of 17 and she has 88 progeny on the herd-books to date. HBB Jagger 361X, a son of 361T38 by Henderson of Brinks 30S7, is currently leaving his mark in the herd as a natural service sire. Miss Brinks Ali 416L2 is a 7/8ths sister to the great bulls Suhn's Alydar 416N3 and Suhn's Affirmed 416N4. In 2010, a daughter by 416L2 and Henderson sold for $8,000 in The Global Collection Sale in Houston, Texas.
Today, the Hengst Brothers Brangus herd is entering its 48th year of existence, and true to its roots, it is still a program built on family. It is being carried on by Dennis Hengst and his wife, Helen, son Karl, son Gregory and wife Heather, and daughter Crystal and her husband, Kyle Devoll. Grandson Kolman Hengst, the next generation, is already taking interest as well.
"Genomic-enhanced EPDs are the tool of choice in breed improvement strategies in the livestock industry today." says Dr. Tommy Perkins, IBBA Executive Vice President. "It is our role to give IBBA members the most current tools to make improvement in beef production. Genomically enhanced EPDs will allow Brangus breeders to make the most accurate and rapid genetic improvement available."
GE-EPDs combine an analysis of pedigree, individual performance and genomic information to hasten the rate of genetic progress in a population of cattle. Most importantly, GE-EPDs increase the accuracy of EPDs on younger, non-proven animals. The increase in EPD accuracies allows breeders to identify the best genetics earlier in an animal's life without the extreme cost of progeny testing. Information gleaned from a single DNA sample may be as informative as the first calf crop of a bull or the lifetime production record of a cow.
Brangus- The  Breed That Will Do More, Part I Vedio
Brangus- The Breed That Will Do More, Part II Vedio